For all of my adult life, I've loved the New England seacoast. The lighthouses seem a romantic spot, set above the crashing waves, lighting the way to sailors trying to come home to their loved ones. This fabric was such a delight to find! I was so pleased to have someone order it, and I could make you one of them...
It's interesting that for years and years, I could not explain why I hated to be at the "southern beaches" - just was not comfortable baking myself under the sweltering sun. It always made me feel rotten. Give me the Maine coast in Fall, or Nantucket in the winter. Walking the beach in an Aran sweater and jeans. When I learned that I had SLE (Lupus) and that it gets worse with exposure to the sun, I finally realized why the beach and I were only happy together under "inclement" weather. Alice Koller, who went to Nantucket in the winter to find herself in
An Unknown Woman
, Anne Morrow Lindbergh (
Gift from the Sea
), and Alix Shulman (
Drinking the Rain
) write beautifully and eloquently of how the ocean and a deserted beach can help set things right in a woman's mind.
In honor of that, I made the Beachcomber Mera below:
And just for fun, but not available anywhere (as there is no more fabric and this one is sold) Alexander Henry's great bathtub print, the Rubber Duckie Mera - the perfect small-sized baby tote (for when the Maddy is a bit too large!)
Yes, I've been busy. And I suppose, if you add in the work you've seen on
Knitnana
this week, you can see why I'm wishing for a break on an autumnal, windswept, deserted beach! Hmmm....maybe with this on the needles?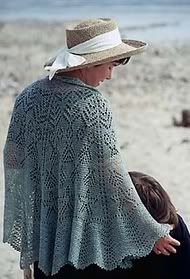 I think the shawl will have to be made in just this same yarn, as it's perfect with the Beachcomber bag above, don't you think?